The Best Commercial Reverse Osmosis System in Springfield IL
Protect valuable equipment that keeps your business running effectively with a SoBrite Technologies commercial reverse osmosis system in Springfield IL. Our equipment is ideal for car washes. The systems we sell can improve customer satisfaction by providing spot-free rinse cycles at your business. Plus, it will protect nozzles and other delicate components in your car wash that hard water can damage. In addition, available equipment also can remove odors. Contact us today to request a free quote on a commercial osmosis system.
Why Invest in a Commercial Reverse Osmosis System?
A reverse osmosis (RO) water reclaim system provides a tremendous return on investment by removing calcium and minerals from your water. Though those substances are not unsafe, those contaminants can cause the premature breakdown of equipment at your business. The reverse osmosis system applies pressure while filtering water through a semi-permeable membrane. As a result, undesired particles get ""`1`11filtered out on the semi-permeable membrane's pressurized side, supplying you with water free from impurities that degrade machinery.
Top Reasons to Choose Our Reverse Osmosis System
You can find other systems available in the marketplace. However, none of them outperform SoBrite Technologies when it comes to a commercial reverse osmosis system in Springfield IL. Here are the main reasons to choose our RO water reclaim system:
Improve Car Wash Rinse Results – The calcium and minerals that standard water filtration systems do not address can leave your customers with spotty cars. In fact, those minerals leave behind a spotty, chalky residue on vehicle surfaces after rinsing and drying. However, a reverse osmosis system can remove hard water contaminants, giving your customers spot-free vehicles.
Keep Equipment from Breaking Down – As your car wash's hoses, spray nozzles and other components undergo daily use, calcium deposits take a toll. Calcium and minerals create clogs, reduce water pressure, and cause equipment to get out of sync. However, a commercial reverse osmosis system can take calcium and minerals out of water. As a result, you can avoid calcium deposits and the gradual degradation of your equipment.
Cleaning Chemical Waste – Without an RO water reclaim system, your car wash will struggle to provide customers with effective cleaning solutions. Your car wash will use more soap and wax per wash because they do not mix in hard water as well. Yet, a reverse osmosis system can cause you to spend less on soap and wax and create less chemical waste.
Available Products
SoBrite Technologies has created incredible water treatment solutions for businesses since 1975. Over the years, we've developed our technology to be more effective and comprehensive, implementing features such as zero discharge or odor control into our systems. Today, we offer a line of water treatment products to best assist car wash operators wishing to update or retrofit their existing plumbing systems. Our products include:
Car Wash Water Reclaim
Car Wash Odor Control
Car Wash Spot-Free Rinse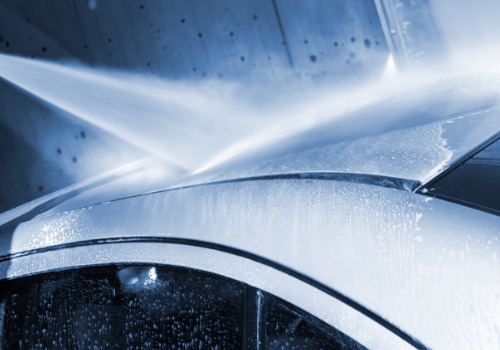 Request a Free Estimate
Let SoBrite Technologies help you protect your valuable equipment with the best commercial reverse osmosis system in Springfield IL. Receive more information about how water reclaim systems can benefit your business by discussing available products with our water treatment experts at SoBrite Technologies. Contact us now at 309-467-2335. Our main office is located at 809 W Center St, Eureka, IL 61530.