Top Car Wash Reverse Osmosis System in Illinois
Increase profit margin at your car wash with a SoBrite Technologies reverse osmosis system in Illinois. We can upgrade your facility by replacing a less effective water reclaim system, eliminating customer satisfaction problems from spotty washes, and reducing wasted cleaning chemicals. For nearly 50 years, we have served as a leader in the water treatment industry. Our cutting-edge water reclaim system can give your car wash an advantage over your competitors. Call our team now at 309-467-2235 to request a quote or learn more about our innovative water treatment solutions.
What Happens During the Reverse Osmosis Process?
A reverse osmosis (RO) water reclaim system filters contaminants, including calcium and other minerals, out of water. These substances cause a host of headaches for your business, such as spotty washes and excessive use of water and chemicals. The reverse osmosis process filters water through a semi-permeable membrane while applying pressure. This removes unwanted particles, keeping them on the semi-permeable membrane's pressurized side, to provide you with purified water.
How Do I Benefit from a Reverse Osmosis System in Illinois?
Alternative products available on the market will not resolve the problems you are facing with your car wash like our reverse osmosis system in Illinois. Here are some of the common problems you can resolve with our RO water reclaim products:
Eliminate Spots: Unfortunately, the minerals and calcium that remain in water with standard water filtration will cause chalky residue on customer cars. However, applying reverse osmosis to the hard water removes calcium and minerals, enabling your car wash to provide spot-free service!
Improve Efficiency: As the spray nozzles, hoses, and other equipment face heavy, daily use, the calcium deposits in water can cause them problems. These contaminants create clogs, lower water pressure, and lead to equipment failure or inefficient performance. However, you can avoid calcium build-up and costly equipment repairs with the help of our reverse osmosis system in Illinois.
Reduce Chemical Waste: Your car wash will not run as efficiently without an effective RO water reclaim system. Calcium and minerals left behind in water do not mix well with soap and wax. As a result, your car wash will use more soap, wax, and water per wash to get vehicles clean. Fortunately, the water filtered through our reverse osmosis system can eliminate this costly and inefficient use of water and chemicals. This saves you money and cuts your negative impact on the environment.
Available SoBrite Technologies Products
Whether you need a replacement system or a retrofit project, SoBrite Technologies can provide you with the right reverse osmosis system in Illinois. Since 1975, our innovative technology breakthroughs in water treatment have helped our car wash partners gain a competitive edge. Get the perfect solution for your car wash by choosing from our selection of the following products:
Car Wash Water Reclaim:
Car Wash Odor Control:
Car Wash Spot-Free Rinse: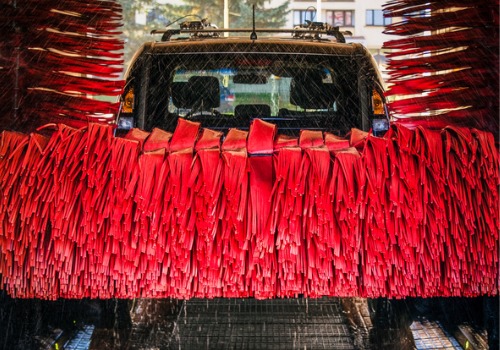 Request a Free Quote
Take the first step toward a more profitable and efficient car wash by requesting a free estimate on our reverse osmosis system in Illinois. Call our team today at 309-467-2235 to learn more about the benefits our products can offer your business. We remain committed to bringing you value-added service with advice, engineering, and implementation of solutions that meet and exceed your expectations.