Upgrade Your Car Wash Water Reclaim System in Indiana
Your car wash business can cut expenses and use water more efficiently with a SoBrite Technologies water reclaim system in Indiana.  Also, a new water reclaim system uses technology that reduces your facility's dependence on city water supply and waste management systems. In addition, a water reclaim system allows for more efficient water consumption, alleviating water shortage concerns in areas during seasonal droughts. Give us a call now at 309-467-2335 to request a free quote or to further discuss how to upgrade your car wash facilities.
What Are the Benefits of Water Reclaim Systems?
Are you interested in learning more about how your car wash can benefit from a water reclaim system in Indiana? We thought you might be. Here are some of the biggest reasons why you should consider a water reclaim solution that can be customized to your business:
More Efficient Water Usage: Recently, many car washes have shortened their operating hours to ensure that do not negatively impact community water levels. Plus, the amount of wastewater generated by car washes poses quite a challenge for civic water treatment facilities. However, you can market your car wash as a responsible community business that uses water as efficiently as possible when you install our water reclaim system in Indiana.
Trim Your Overhead Costs: Your car wash can also greatly reduce your monthly operating costs with the benefit of our water reclaim system in Indiana. The water purified by our equipment will use less water, soap, and wax per wash compared to hard water from community supplies. Think about how much more money you can add to your bottom line with less cost on soap, wax, and water supplies.
Improve Your Customer Satisfaction: Water from civic water lines often comes with impurities that lead to spots on the cars of your customers. Do not lose customers because your rinse cycle leaves unsightly blemishes on the surface of their cars. With our water recycling system in Indiana, you can get reverse osmosis technology that rids water from the minerals and contaminants that cause those unwanted spots.
Customize the Right System for Your Car Wash
For nearly 50 years, SoBrite Technologies served as a leader in the water treatment industry. Our operations started with developing de-ionization reclaim systems. Then, we moved on to reverse osmosis systems when that process was proven as a more effective way to filter water. Countless car washes across the country use our water reclaim systems. Whether you need to replace an old water reclaim system or retrofit one to your current car wash, we can help. Our water treatment solutions include the following products:
Car Wash Water Reclaim:
Car Wash Odor Control:
Car Wash Spot-Free Rinse: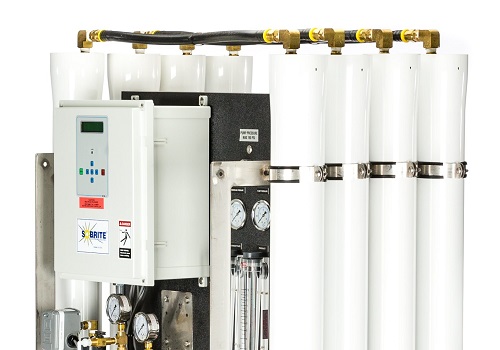 Get in Touch with Us
If you are ready to upgrade your car wash, let our team know that you would like a free estimate on our water reclaim system in Indiana. Call 309-467-2235 to request your quote or find out more information about our company or our products. We look forward to helping your car wash use water more efficiently and cut operating costs.